Guitar lessons as part of your Altered Stage membership are designed to accelerate your learning process.
Keep you engaged. Help you enjoy the gift of making music. We tailor guitar lessons toward each member's skill level, musical tastes and individual musical goals.
Since nothing helps people learn faster than an upcoming performance, we bring your instruction to life through participation in open jam sessions, gigs at well-known Chicago venues, and assistance with writing and publishing original work through our Altered Records subsidiary. Yes, we offer way more than just guitar lessons. We offer a perpetual musical journey.
For members who have never picked up a guitar, we work to get you playing songs you know immediately, and all the while you'll be learning basic theory and technique. We will have you ready to play with our house band and/or other members within weeks of your first lesson. Guaranteed.
For intermediate players, we incorporate a fun learning methodology focused on building confidence to get you out of your comfort zone. We work to help you understand advanced theory, help correct bad habits that help you play faster and more accurately, and strongly encourage you to take what you learn and write your own music. You'll improve your playing, get more opportunities to play live, and maybe release your first album.
Even the most advanced players can benefit from guitar lessons. For these members, we help provide a different perspective on what members already know. We walk members through complex music that sometimes defies theory and get them to more fully express their own musical creativity. And through the interaction with other members, our advanced players can serve as mentors to the entire Altered Stage community and will have ample opportunity to get a jam on.  Of course, we strongly encourage advanced players to write their own music and publish it through Altered Records.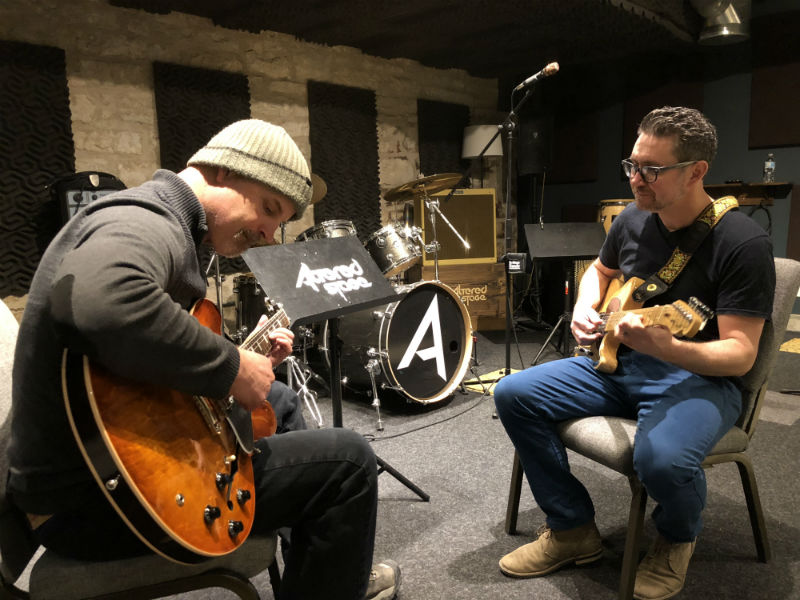 So many times, in my life, I've picked up my guitar and had visions of one day sharing my music with the world. I always wanted to write music but always found some lame excuse not to do it. Then, Altered Stage came along.
I now had a drum instructor that helped me find my rhythm; I had a guitar instructor that could pick up a bass and fill in my riffs. I now had reasons to get it done. So, we got it done. Now, I have a few songs for the world to hear – songs that I wrote; I played guitar; I played drums and I sang on. My songs. Pretty freaking awesome!
– Tom J.
Jason Steele, Lead Guitar Instructor
Jason Steele has been teaching music to people of all ages and experience levels for more than a decade. He has an extremely approachable and empowering teaching style that centers around enabling every student to make small "victories" every day. He tailors guitar lessons based upon each student's personality, skill level, musical preferences and growth goals.
Jason Steele is a critically-acclaimed jazz guitarist and composer immersed in the immediate creation of dynamic new music. Steele's music pulls from a wide range of jazz styles in addition to indie rock and cinematic overtones.
Jason first assembled his jazz and improvisation group, The Jason Steele Ensemble, in 2004 as a medium for his original compositions as well as a showcase for the talents of cutting-edge jazz musicians. The ensemble recorded its renowned debut album – Some Wonderful Moment – with special guests Ron Miles on cornet. Steele currently leads a smaller version of his ensemble, The Jason Steele Quartet, in addition to putting time into his newest project, Messenger Collective. Jason Steele's Messenger Collective is due to release their debut album, Vol. 1 Wirewalker… Music for Philippe Petit, in the summer of 2014 on Altered Records. Occasionally Jason can also be seen performing with his parallel project, Remington 2+2 – a free improv quartet with fellow guitarist Bill Mackay that takes improvisation to the next level by including two "mystery guest players" in each show.
Jason holds a degree in Jazz Composition from the prestigious Chicago College of Performing Arts and has performed alongside many great players such as Charlie Persip, Ron Miles, John Mclean, Mike Smith and George Lewis. While living in Colorado, Jason also studied under Dale Bruning, former teacher of Bill Frisell.
Jason plays regularly in Chicago at venues such as Martyrs', The Whistler, Uncommon Ground and the House of Blues, and has performed throughout the U.S. and Europe – as far reaching as the Montreux Jazz Festival.
Albums released as lead:
"Some Wonderful Moment" – Jason Steele Ensemble, Eyes and Ears Records, 2007
"On This Day" – Jason Steele, Altered Records, 2012
"Vol 1 Wirewalker…Music for Philippe Petit" – Messenger Collective, Altered Records (2014 release)
Awards Received:
Community Arts Assistance Program (CAAP) Grant 2007
Community Arts Assistance Program (CAAP) Grant 2011
Education:
Hutchinson Community College (1996-1998)
Chicago College of the Performing Arts (Bachelors in Jazz Composition)
Jerry Cusack, Guitar Instructor
Jerry teaches jazz, blues, classical and rock styles focusing on guiding students towards building a working knowledge of fretboard harmony and developing the ear through transcribing the work of great artists. He has a Bachelor's degree in classical guitar performance from Metro State University of Denver and has developed his teaching and playing style over the last 20 years through his private studies with classical guitarists Ricardo Iznaola, Fred Hand, Alex Komodore, Jerry Willard, and jazz guitarists Gene Bertoncini, Dale Bruning, Jack Wilkins and Rich Boukas.
"I am continually developing musical concepts myself, searching for new ways to express music, new ways to solve musical puzzles. Always looking for new artists to listen to for inspiration and ideas to share."
See if our unique vibe is right for you!